Assalamu alekoum!

We're excited to announce our new book Happily Ever Hereafter – a collection of two stories helping parents discuss and explain life after death for children from an Islamic perspective.
We all know that none of us will live forever.
Allah has promised that, while He is the one who has blessed us and given us life, He is also the one who will one day take it away from us as well. We belong to Allah, and indeed to Him we will return. [Quran, 2: 156]

It's important to be mindful of this final and eventual reality to help us stay grounded here on earth. We must stay mindful of our day to day aims and worldly goals, but also ensure that whatever actions we take in this life are for our benefit in the hereafter as well.
Here at Noor Kids, we help children (and parents) start conversations about hard topics like death and the hereafter in ways that are beneficial for souls old and young alike.
The Story Behind Happily Ever Hereafter
Talking about death with Muslim children isn't easy. We know.
But, having these difficult conversations about how to think about and prepare for the hereafter can ensure our Muslim children make good choices throughout their lives. We also hope that the choices they make will eventually give them eternal peace in a happy hereafter.
Understanding and planning for the hereafter encourages young Muslims to aim for the next life when we'll all be (insha'Allah!) reunited with our loved ones in the best way possible.
We didn't come into this world simply to go to school, get a job, have a family, and then die. Allah (SWT) tells us that He created death and life as a test to see who is the best in deeds [Quran, 67:2]
Addressing feelings about death from an Islamic perspective
It's natural to feel sad about, or even fear, the time when we will be taken back to Allah.
It's also normal and expected to feel sadness about potentially losing our loved ones.
Our sadness can come from processing the unexpected death of a parent, child, or friend. It can also include sadness and grief about losing a grandparent or community elder before we're ready to say goodbye.  
However, as Muslims, we need to remember that death is just a transition to another way of "being." Our faith also dictates that there will be another life after death that will be just as real as our first life that Allah willed into our bodies.
If we heed the advice and messages set forth in both the Quran and Sunnah of Prophet Muhammad (SAW), we can strive to guarantee ourselves a happy and joyful spot in the hereafter.  
We can also build our faith and trust in what Allah has promised for us.
Islamic Parenting Articles and Islamic Art Activities
In this article, our Head of Adult Education, Kelly El-Yacoubi, shares how parents can start conversations about:
Life after death in Islam

J

annah

Afterlife in Islam

Barzakh

Hereafter in Islam

and more
…with their Muslim children. 
Praying for a lost loved one by making dua along with your child can be a subtle, spiritual way of having conversations about death and dying. 
Dua can start healing conversations that involve a parent, child, Creator, and the deceased.
Learn more about using the power of dua with your child.
Teacing sadaqah jariyah to Muslim children is easy when you have the right tools!
With this activity, children can share some beneficial knowledge they've learned from a loved one.
In doing so they can give sadaqah jariyah (ceaseless charity) for a loved one. 
What's in the Happily Ever Hereafter Book?
In the Happily Every Hereafter book for the Noor Kids educational series we're using two stories to address and re-frame death in positive and encouraging ways.

There's no denying the pain and sorrow of death (especially of those we love). However, with these two stories and related activities, we aim to emphasize the positive, and more importantly actionable, steps that all Muslims should take to ensure a happily ever hereafter.
Younger children of all ages (including four, five, six, seven, and even eight-year-olds) will enjoy and relate to the characters and stories in our books.
We also simplify the process for parents, offering discussion points and activities that make family time spent address these hard topics a positive and healthy experience.
We truly are a light to little Muslims.
Please check out a free sample today and see our books for yourself.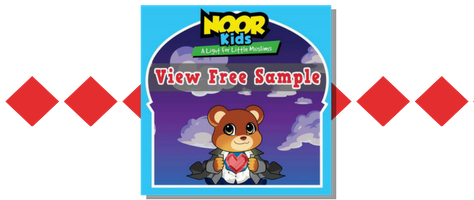 By addressing challenging subjects like death and the hereafter from a Muslim perspective we are a light for parents as well.
We aim to make it a little bit easier to fit these important discussions into busy schedules.